WORKFORCE DEVELOPMENT, GOVERNMENT, EDUCATION, TRAINING AND SOCIAL SERVICES CLIENTS
"I first experienced a Larry Robbin workshop in 1997.  At that time and in every presentation since, his trainings have always been well-timed, insightful and practical.  I always recommend Larry's trainings to colleagues and practitioners.  I require all new staff on my team to attend Larry's trainings and their responses are consistently positive.  Everyone one of them has been appreciative of the knowledge Larry imparts and grateful for the experience.  He has a wealth of experience in serving the needs of job seekers with all kinds of barriers to employment.  Larry's understanding of what employers must focus on to recruit and retain employees is unsurpassed.  His comprehension of the priorities for workforce development departments seeking to design or improve employment services has rendered him a highly sought after trainer and consultant.  Besides his training, our leadership team has had the good fortune of receiving his consulting, coaching and guidance throughout the years."
Joseph A. Billingsley
Senior Support Services Manager
Civicorps
Training
What is Larry's background as a trainer?
Larry has been training for over forty-five years with workshops held in every state.  He has trained over 100,000 people and presented at more than 500 conferences to a wide range of audiences.  He has done more training for the National Association of Workforce Development Professionals, California Workforce Association, National Network of Sector Practitioners, CalWorks Welfare-to-Work Conference and Dynamic Institute webinars than any other individual.
What training topics does Larry offer?
Larry offers over 300 workshops with new ones being added all the time.  The topics cover all aspects of workforce development and deal with every population served by workforce development and training services.  Quite a few of his workshops deal with working with employers.  Many of his topics are also of interest to many other types of organizations such as social services, businesses, educational institutions, training providers and others.
How do we pick a training topic from such a large selection?
Larry has developed a very effective training topic selection process.  In a brief well-structured phone call, Larry will ask you some questions about what you want to accomplish from the workshop.  Based on your response he will suggest a workshop or combine parts of workshops.  He may develop new material as well.  This careful customized matching process gives you a workshop that will deliver the exact outcomes you want to achieve.
Who uses his training?
Larry's clients include federal and local government agencies, one-stops, nonprofits, educational institutions, for profit businesses, training providers, social services and other entities.  Depending on the topic, participants in the training will include management and staff at all levels and from all job descriptions.  Look at the Client Section of this website to see some of the organizations that have used Larry's training.
What is his training like?
Larry uses a blended model of highly engaging lecture, dialog with attendees and focused interactive activities that build peer-to-peer learning, teamwork and collaboration.  Many of Larry's trainings come with free skill building handouts people can use immediately in their program with the people they serve.  Larry does hundreds of hours of volunteer training every year directly with people with all types of challenges that are served by various programs.  This experience keeps his training relevant and realistic.  People report liking Larry's training because while it presents innovative approaches to program challenges, it is very practical and most of the concepts can be implemented immediately or shortly after the training.  Evaluations cite Larry's workshops as being powerful; transforming the way the work is done and increasing people's motivation to deliver outstanding services.
How many people can be trained?
Larry trains all sizes of groups ranging from three people to several thousand.
Keynote Speeches
Does Larry give keynote speeches?
Larry Robbin has been giving keynote speeches at conferences and special events across the United States for a wide variety of audiences over forty years.  He has presented hundreds of keynotes and over 60,000 people have been in his keynote speaking sessions.  His keynote speeches have been used by a diverse group of national, regional, state and local organizations.  His presentations have focused on disability, collaboration, workforce development, non-profit program improvement, community issues, social services, leadership and staff development, innovation, business, topical issues and many other subjects.

Click here to contact Robbin and Associates to discuss your keynote speaking needs

.
What is the cost?
The cost will be determined by whether travel costs are involved, the amount of time involved in customizing the work and other factors.  There is a discount if you book multiple training sessions over a period of time or combine training and management consultation.  See the Management Consulting section for more information on this service.
What Populations and Subject Areas Does Larry's Training Cover?
Populations
Training and Consulting Topic Areas
Adults
Blue Collar Workers
People with Disabilities of all types
Dislocated Workers of all types
Displaced Homemakers
Farmworkers
Foster Youth
Gang Members
Hard-to-Employ
Incumbent Workers
In School Youth
People that are Homeless
Immigrants and Refugees
Long Term Unemployed
Mature Workers
Mental Health Consumers
One-Stop Customers
People in Reentry
Transition Youth
Veterans
Welfare Recipients
Youth
Assessment
Barriers to Employment
Business Partnerships
Business Services
Career Counseling
Case Management
Caseload Management
Collaboration
Customer Service
Customized Employment
Employment Counseling
Employment Plans
Engagement
Follow up
Improving all types of outcomes
Internships
Interviewing
Job Development
Job Matching
Job Readiness
Job Seeking Skills
Job Clubs
Motivation
One-Stop Service Delivery
Outplacement
Rapid Response
Recruitment of participants
Referral relationships
Resumes
Retention in the program and on the job
School-to-Career
Sector Initiatives
Self-Sufficiency
Service Learning
Social Enterprise
Soft Skills
Supported Work
Training assessment and program outcomes
Training Employers
Transitional Employment
Upward Mobility
Work Experience
INTRODUCTION TO THE TRAINING TOPIC LIST
This is only a partial list of Larry Robbin training workshops. New sessions are being developed all the time. If you do not see what you need,

please contact us by

clicking here

because Larry may train on that subject even though it does not appear on this list. These are full day onsite trainings. Some topics are also available in webinar and telephone training formats. Click here to see a list of webinar trainings I provide.
Training topics that are about job seekers are available in all population formats or in specific versions for various populations such as adults and/or youth with disabilities, dislocated workers, at-risk youth, people in reentry, mature workers, veterans, hard-to-employ etc. The workshop you select will be highly customized for your organization, population, local conditions, staff and goals.
PARTIAL LIST OF LARRY ROBBIN TRAINING TOPICS
Are You Talking Like Businesses Think?
How to Get the Private Sector to Use Your Services
Assessing Employability in the Hard-to-Employ
How to Determine What People Need to be Job Ready
Building Bridges to the American Workplace!
Employment Counseling with Immigrants and Refugees
Captain and Coach Approach to Case Management!
A Revolutionary New Way to Help People Case Manage Themselves!
Career Exploration Strategies that Work!
How to Shift People From a Job to a Career Focus
Case Management From a Human Resources Perspective!
Closing the Gaps!
How to Get Case Management and Business Services to Work Together
Consumer Employment Strategies
Helping People with Mental Health Disabilities Get Jobs
Cooperation, Coordination and Collaboration!
How to Make Your Job Center a Seamless System of Services
Customized Employment Strategies for Success!
Digging for Gold!
How to Uncover Hidden Assets to Employment in the Hard-to-Employ
Employment Plans that Actually Lead to Employment!
Foster Youth Can be Working Youth!
From Jails to Jobs!
New Ways to Help People in Reentry get Hired
Homeless Not Helpless!
New Ways to Help People Who are Homeless Get Jobs!
How the Recession has Changed the Employer Hiring Agenda
and What has to Change in Your Work to Get People Hired!
How to Create the Master Strategy for Business Services!
How to Find the Employability in Disability!
How to Get Money, Volunteers and More from Private Sector Businesses!
How to Deliver Outstanding Customer Service with Challenging Customers in High Volume Settings!
How to Get Repeat Hiring From Employers!
How to Hire and Train the New Workforce Development Professional of the Future!
Get the Staff that will Give You Performance Plus in the Next Era of Workforce Development!
I Don't Want to Work and You Can't Make Me
How to Help Work Resistant People go From No Work No Way to I Got the Job!
Increasing Employment Motivation in TAY Youth
Is Your Workforce Program the State-of-the-Art?
Compare Your Organization to the Best of the Best!
It Takes a Village of Programs
How to Create a Seamless System of Referral Partners and Support Services for Employment Progress
Job Development and Business Services 101
The Best of the Tricks of the Trade
Job Readiness From the Employer's Perspective
How to Prepare People to Meet the New Private Sector Hiring Agenda
Keep the Bars Behind You
Job Retention for People in Reentry
Jump Start the Job Search Success of the Long Term Unemployed!
Maintaining Employment Motivation for the Long Haul
How to Keep People Job Hunting in Today's Long Job Search
Make Internships and Work Experience Lead to Job Offers
Teach People How to be the New Kind of Employee Employers Want to Hire!
Make Training Lead to Training Related Jobs
New Ways to Improve Training Matching, Retention and Outcomes
Make Your Work a Magnet!
How to Recruit and Retain Challenging Populations
Matchmaker Matchmaker Make Me a Match!
How to Refer the Right People for the Right Job so They are Hired
New Ways to Get Employers to Hire People with Disabilities
OJT Marketing Strategies that Appeal to Employers!
Pink Slip to Paycheck!
Better Ways to Close the Gap Between Dislocated Workers and Their Next Job
Rapid Response Strategies that Lead to Reemployment
Reinventing Employment Plans
How to Make Employment, Retention and Advancement Plans that Work!
Rest of the Iceberg!
How to Reveal and Address Hidden Barriers to Employment
Revealing the Employer's Hidden Hiring Agenda!
Teach People to Interview in Ways that Match the Undercover Hiring Agenda
Senior Success!
How to Help Mature Workers Overcome Age Discrimination and Get Hired!
Serve More People in Less Time with Better Results!
Use the Innovative Peer-to-Peer High Capacity Model
Social System as the Client
How to Engage Family, Friends and Others to Support Employment Progress
Soft Skills are Success Skills!
Creative Ways to Teach Them to Your Job Seekers
Success with Supported Work!
The Barrier Buster!
Revolutionary New Ways to Eliminate Barriers to Employment Faster Than Ever!
The Radar Approach to Job Retention!
The Most Powerful Job Loss Prevention System You Can Put in Your Program!
The Springboard to Employment!
Powerful New Ways to Help the Long Term Unemployed get Back to Work!
The Barrier Buster!
Five New and More Effective Ways to Eliminate Barriers to Employment
The Rules of Engagement!
Creating Stronger Relationship Bonds that Overcome Resistance to Progress
Through Disconnected Eyes!
How Disconnected Youth Want You to Recruit, Engage and Retain Them
To Disclose my Disability or Not to Disclose – That is the Question!
Helping People with Disabilities Develop Their Disclosure Strategy
Upward Bound! Better Job, More Pay, More Hours and More!
Teach People How to Advance in the Workplace and World of Work!
Welfare-to-Work and Not Back Again!
Help People get to Self-Sufficiency and Leave the System Behind
Winning Over the Hearts and Minds of At-Risk Youth
Make Your Employment Program Work for Gang Diversion and Intervention
You Can be a Change Agent!
How to Increase Employment Motivation in the Hard-to-Employ
You Can Run Job Clubs that Lead to Jobs!
Facilitator training, new recruitment strategies, creative activities and more!
You are the Glue!
How to Work with Bosses to Improve Job Retention
You Can Win Over the Resistant Business Customer
How to Get Reluctant Employers to Work with Your Program
"I think Larry Robbin is one of the most knowledgeable workforce development trainers in the United Sates. His workshops are among the best that I have ever attended. I look forward to every opportunity to attend his training sessions."
Keith A. Young
Certified Workforce Development Professional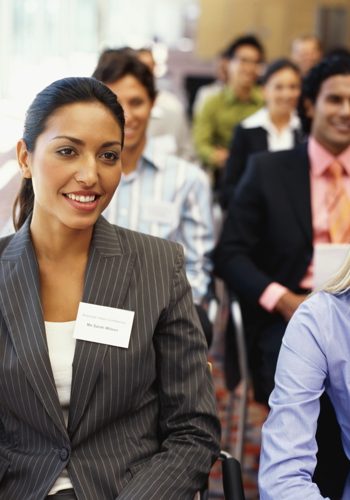 "Larry stands out as unique among consultants. His bi-cultural knowledge of both employers and social service organizations is extremely helpful in bridging the gap between these two very different entities. His trainings are direct, user-friendly and wonderfully illustrative. I've never attended a Larry Robbin workshop that didn't stimulate my services in a new, fresh direction."
Russell Berman
Vocational Services Coordinator
Department of Health
Larry Robbin is my go to trainer.  He has the depth and breadth of experience to provide the training our staff and partner staff need when they need it.  His ability to connect with the training attendees brings the material to them in their space so they can engage it in their daily work.  He stays relevant and if I have a training need, he will adapt one of his many trainings to my needs.  Unlike most consultants, he does not fit me into his portfolio.  The best part is he is a pleasure to work with. 
Melanie Hitchcock Ph.D.
Regional Initiatives Manager
San Diego Workforce Partnership
CASAS occupies a distinct intersection between adult education and workforce development. This overlap across systems is reflected by the variety of attendees at our annual conference, the CASAS National Summer Institute. Larry has presented many times at Summer Institute to standing-room-only crowds. He has the ability to ensure his presentations always encompass, affect, and inspire all groups represented in his audiences. He presents practical solutions on a broad variety of topics — all supported by sound theories and substantiated by his vast personal experiences. Attendees know they will acquire original ideas from Larry's unique point of view about how to serve learners more effectively regardless of their circumstances — whether incarcerated, in training, in class, or seeking employment. His expertise and compassion continually serve his audiences well.  
Jane Egüez,
CASAS
Vice President and Director of Program Development
Larry Robbin is an outstanding teacher and trainer, whose unparalleled depth and breadth of experience with employers and workforce development have provided him with a wealth of relevant knowledge and compelling stories and case examples that motivate improved performance from all who are fortunateenough to interact with him.  He has trained and consulted for REDF and many of our grantee agencies.  He also exhibits deep respect for people who face all kinds of challenges, and an enduring commitment to their success in the workforce.
Carla Javits
President and CEO, REDF
Larry Robbin is a trail blazer in the Workforce Development field.  His knowledge and experience makes him an exceptional trainer with real life experience to share. As an Executive Director of a Workforce Board, the best way for me to measure the quality of a trainer is by staff engagement and reaction. Not one of my employees, who have participated in a Larry Robbin training, comes out disappointed. Instead, they leave Larry's training asking, "When is the next session, please sign me up!" Larry presents his material in a way that is easy to follow and apply. Larry is a gem and asset to our workforce system.
Yolanda Castro
Robbin and Associates © 2023